Your free Deliveroo rider insurance
Your safety and security are of paramount importance to us. That's why we have a market-leading insurance cover to ensure that whenever you (or your delegate) are out on the road with us, you and your earnings are protected in the event of an accident. 
It's completely free and covers you from the moment you go online, plus up to one hour after logging off.
What is covered by the insurance?
Deliveroo's insurance provides financial support in the case of injury sustained while riding with Deliveroo. It also gives you support to cover lost income in case you can't work following an accident while riding with Deliveroo (up to $1,625 per week for up to 104 weeks, depending on eligibility, exclusions and requirements). You can claim an ongoing payment if you are injured and unable to work. You'll also receive a lump sum payment for more serious injuries. This policy includes a variety of out-of-pocket expense benefits.
Key benefits of the policy include: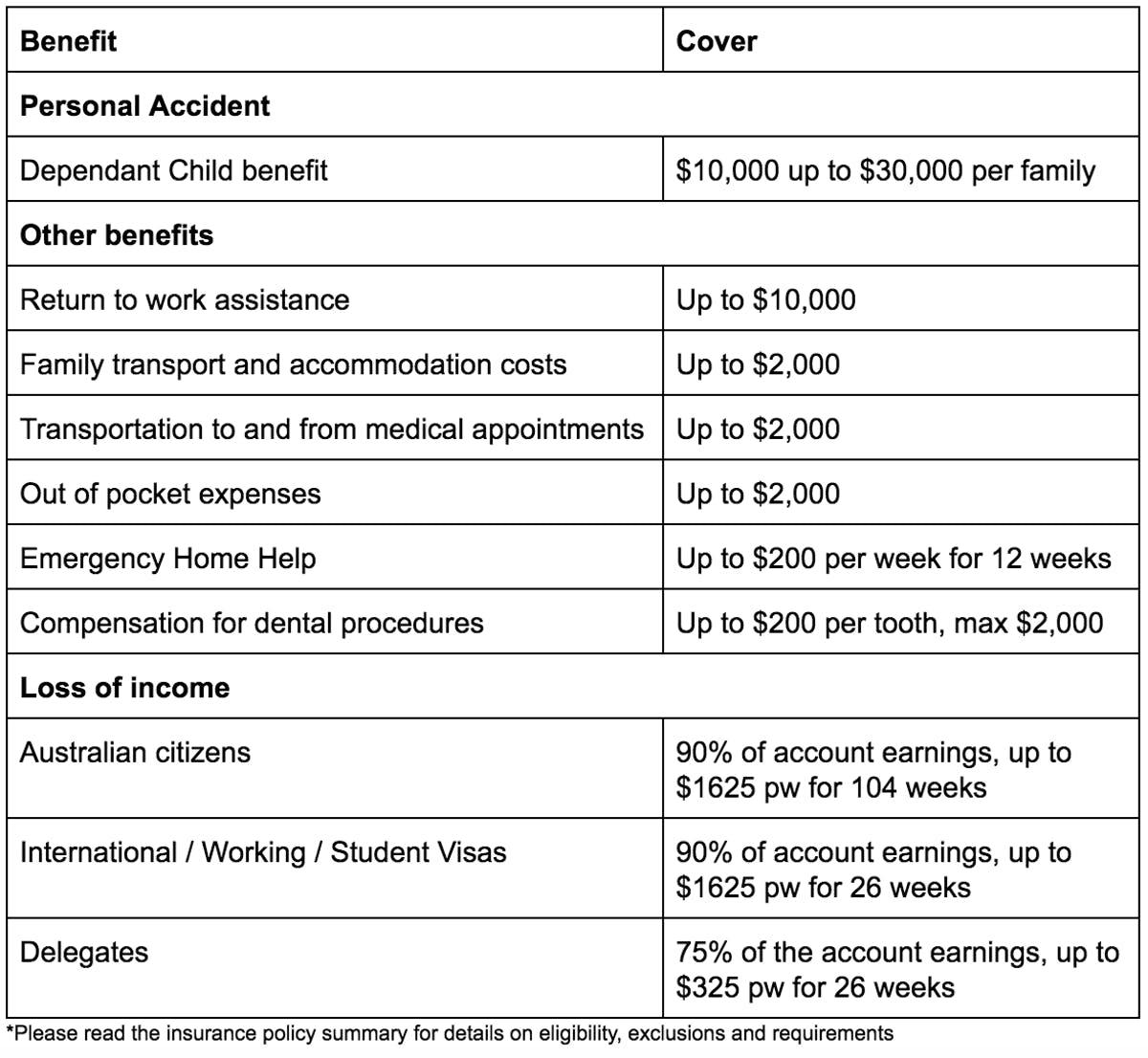 We recommend that you read the full insurance policy summary, which includes details on all benefits, exclusions and requirements. Find out more here.
Helpful info
For more information about accident and income protection insurance, you can:
Have a question about a claim?
If you have a question about a claim, call 1300 014 907 or email deliveroo@marshadvantage.com.
Frequently asked questions
1. Who is covered under the policy?
You: As a Deliveroo rider, you'll be protected by our insurance cover.
Your delegate: If you have someone else working for you as a delegate, they will be covered too.
2. When/where will I be covered?
As a Deliveroo rider, you (and your delegates) are covered by our insurance whenever and wherever you're out on the road with us in Australia. This includes the whole time you're online in the Deliveroo app, as well as for up to one hour after logging off.
3. What if my delegate has an accident?
The rider insurance covers delegates providing that they are working in accordance with the terms of your rider supplier agreement. If your delegate is involved in an incident they can make a claim in the same way (see 'Need to Report a Claim?' above).
4. How can I make a claim?
It's simple and easy to make a claim, all you need to do is report your accident to Deliveroo or visit our insurance portal to tell us what happened. We might then ask you a few more details to clarify the situation. Once you have reported the incident, a member of the insurance support team will assess your accident and get in touch to explain what you need to do next. This might involve filling out state specific forms about motor vehicle accidents or personal injuries or providing additional documentation.
Throughout the claim process, the insurance team will be available to support you and answer any questions you may have.
5. What if I work with other companies too?
Lots of riders work with Deliveroo and other companies at the same time. You're completely free to do that and you will still be covered by free accident insurance when you work with us.
6. Is there an excess to pay when I make a claim?
No, there is no excess to pay when you make a claim. You have no out-of-pocket expenses when claiming on this insurance policy.
7. Will my vehicle and kit be insured?
Your own vehicle, clothing and accessories will not be covered. If your Deliveroo kit has been damaged and you want to replace it please get in touch with us.
8. When will I not be covered?
If an accident happens while you're offline, or you haven't been online in the Deliveroo app in the past hour, you won't be covered for any claims.
9. I have more questions - who can I ask?
Can't find what you're looking for? Please contact the Marsh hotline on1300 014 907 or email deliveroo@marshadvantage.com